Hyundai Accent
It's a fast-moving world, so it's important to catch people's eye. The Accent does just that, with a profile that's modern, athletic and futuristic. Up front, a smartly-designed radiator grille announces the car's personality head-on. With a long low cabin space, wide wheelbase and short front overhang, the Accent's proportions tell you all you need to know about its sporty nature. And leave you in no doubt that this is one stylish vehicle. 
With its distinctive outline, the Accent has real presence on the road. Take it into the city – the place where trends are set – and you'll find yourself setting a trend of your own. One where comfort meets functionality, where street toughness is built in, and where enjoyment is never far behind. 

view
Modern and architectural
The blueprint for the cabin layout
The Accent's driver space has been designed around the driver. It sounds obvious, but it's something that's often overlooked. The seat position provides you with a commanding view of the road ahead. Controls are logically positioned, while dials and instrumentation are placed in a natural, uninterrupted eye-line. The balanced proportions of the symmetric, Y-shaped center fascia panel carry through to the doors with their sporty grip handles. The steering wheel is a three-spoke design that fits comfortably in the hands, while trim details are in stylish semi-glossy black, or white pearl high-glossy for unique visual impact. 
The Accent's seats offer good firm support to make even the longest journeys comfortable. And because wind noise can affect your enjoyment when driving at a constant speed, sound proofing has been optimized throughout the vehicle, with noise intake prevention structures around the door handles, engine air intakes built to emit less noise, and anti-noise connectors in the outside mirrors. There are elegant interior trims to choose from, while rear door cup holders let your passengers keep their drinks secure.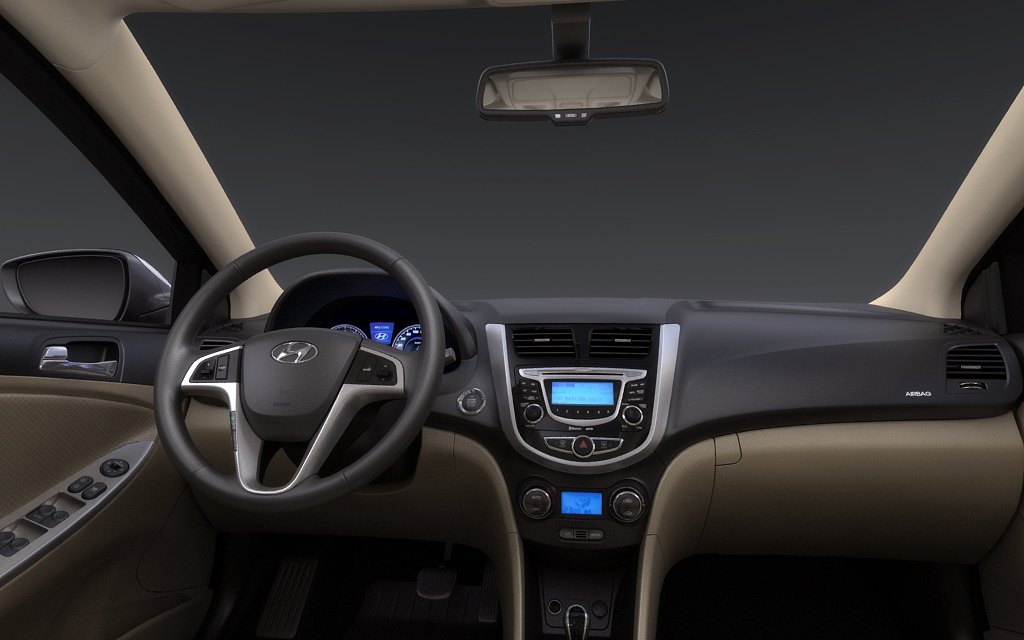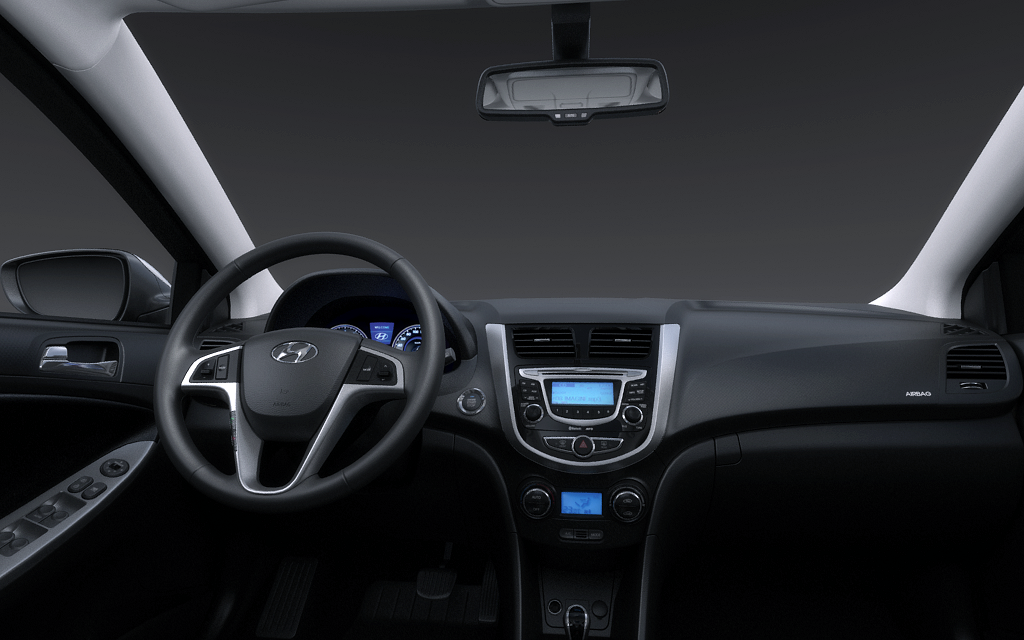 Click to colour:



Features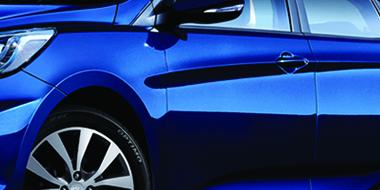 Body-colored outside handles
The outside door handles are color-coordinated with the body work for a refined, uninterrupted look.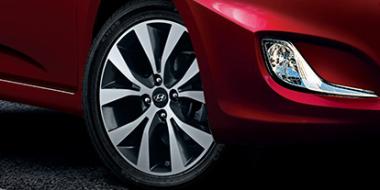 When you first look at the Accent, you may find your eyes being drawn to the ground. And that's okay. The alloy wheels with low rolling resistance silica tires that provide great style, and optimize fuel economy at the same time.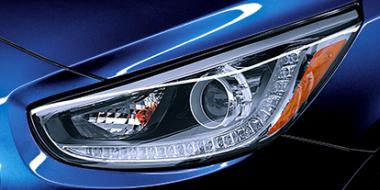 When the sun goes down, the available projector headlights with LED accents and fog lights give you a better view of the road ahead and get noticed by those who appreciate thoughtful design and attention to detail.
Specifications
Engine

Type
1.4 MPi
1.6 MPi
1.6 VGT
Engine type
Gasoline
Diesel
Displacement (cc)
1,368
1,591
1,582
Max. Power (ps / rpm)
100 / 6,000
124 / 6,300
136 / 4,000
Max. Torque (kg.m / rpm)
13.6 / 3,500
15.9 / 4,200

30.6 / 1,750~2,500 (DCT)  

26.5 / 1,500~3,500 (MT)

Bore x Stroke (mm)
72 x 84
77 x 85.44
77.2 x 84.5
Alternator
13.5-Volt 90 A
12-Volt 120 A
Starter
12-Volt 0.9 kW
12-Volt 1.7 kW

Dimensions

Front head room (mm)
1,014
Rear head room (mm)
946
Front leg room (mm)
1,062
Rear leg room (mm)
846
Front shoulder room (mm)
1,364
Rear shoulder room (mm)
1,356
Front hip room (mm)
1,304
Rear hip room (mm)
1,198
Minimum ground clearence (mm)
147

Suspension

Front suspension type
McPherson strut type with coil spring
Rear suspension type
CTBA (Coupled torsion beam axle)