Hyundai H100
The new H100 has arrived and it certainly has been worth the wait. Because Hyundai knows exactly what you've been expecting in your new truck: better fuel economy is right at the top of your shopping list. So is quieter, smoother operation. And, of course, you demand outstanding versatility along with the highest standard of reliability and workmanship. Hyundai's new H100 delivers that and much more. With just one look at its refined profile and solid build quality, you can tell the new H100 represents a big step forward. Surpassing expectations: It's what Hyundai is all about. You would not expect anything less from the world's fastest-growing vehicle manufacturer of the past decade. 
Every truck has its strong point. But what sets the new H100 apart from the rest of the competition is its excellence in every major category. Whatever way you look at it, the new H100 sets the standard by which all other trucks are measured. Once you get behind the wheel and take the new H100 for a drive, you'll see that Hyundai has thought of everything: You get sophisticated styling that makes a confident statement about you and your business. And along with its smart, modern styling, the new H100 delivers an equal measure of versatility and toughness. And because it's a Hyundai, you know the new H100 is very economical to own and operate. So why make compromises when choosing your next truck? The new H100 has you covered. 

view
Designed for life on the road 
Life on the road can be tough at times. Nobody knows that better than truck drivers. Which is why the new, quieter and more comfortable H100 is such good news. It really does make driving a lot easier on the body and mind. For starters, the new H100 gives you an extra-roomy cabin that is now quieter than ever. And then there's the ergonomically designed seats which deliver perfect support – right where it matters most.
The multi-density foam specified for the seat cushion and backrest does a lot to ease the stresses and strains of driving all day long. The optional tilt-adjustable steering wheel helps ensure the perfect driving position while the centre console and instrument cluster are perfectly intuitive to understand and operate.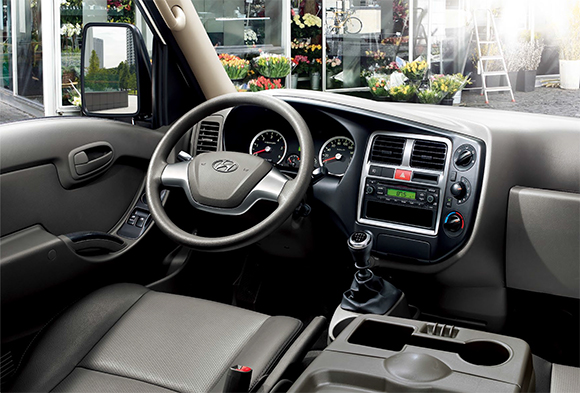 Features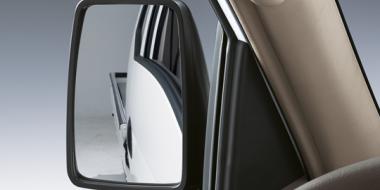 A useful and meaningful safety enhancement, especially when parking, wide-angle outside mirrors provide a wide rear view.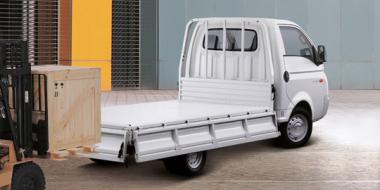 Cargo space designed for work with a lower deck height of just 775 mm and an unobstructed load area, the H100 makes fast and efficient work of loading and unloading cargo weights of up to 1000 kg. Latching side walls and a bolting tailgate add extra security and cargo protection.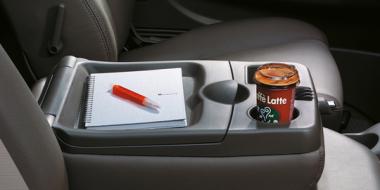 When you fold center front seat, you can find 2 cup holders and tray. Further, the small box, behind the tray to open manually, is offered some space to hold maps and paperwork for convenient journey.
Specifications
Overview

Type
Low deck
High deck
Cab
Standard / Super / Double
Standard
Engine
2.6L diesel (Natural Aspiration)
A2 2.5 CRDi
2.6L diesel (Natural Aspiration)
Displacement (cc)
2,607
2,497
2,607
Bore x Stroke (mm)
91.1 x 100
91 x 96
91.1 x 100
Compression Ratio
22.0 : 1
16.4 : 1
22.0 : 1
Max. Power (ps/rpm)
79 / 4,000
130 / 3,800
79 / 4,0000
Max. Torque (kg.m/rpm)
17 / 2,200
26 / 1,500~3,500
17 / 2,200

Transmission

Type
Dry type with single friction plate
Clutch Type
5-Speed manual transmission
6-Speed manual transmission
5-Speed manual transmission
Clutch Disc. facing diameter (Outside x Thickness)
240 x 8.0
250 x 8.0
240 x 8.0

Suspension

Front Type
Torsion bar spring
Rear Type
Multi-leaf spring
Shock absorber
Oil type
Stabilizer bar
Torsion bar type on front axle : Ø25

Brakes

Type
Hydraulic emergency brake, combined with service brake
Front brake
Ventilated disk
Rear brake
Drum
Booster size
8+9 Tandem 8.0 : 1

Wheel & Tire

Wheel type
Steel
Front Wheel size
5.5J x 15"
6J x 15"
Rear Wheel size
4J x 13"
6J x 15"
Front Tire size
195/70R15C-8PR
195/70R15C-8PR
Rear Tire size
145R13C-8PR
195/70R15C-8PR
Spare tire
Full size 2ea
Full size 1ea